SACRAMENTO — 
Weeks before UC Irvine opened its sexual assault forensic exam site, a student needed it.
She walked into the nearest emergency room after her attack only to find out that it did not offer rape test kits. By the time she was rerouted, it was 2 a.m., and the student, exhausted in the throes of trauma, declined to make the trip to Anaheim to the nearest facility offering an exam — more than 19 miles off campus.
"It really hit me hard," said Eli Pascal, director of UCI's Campus Assault Resources and Education office, who helped direct the student to services. "What if we had just been open? Would this student had been OK to come back to campus and let us take care of her there?"
Most colleges in California — and across the country — do not offer rape kits on campus, and some school officials and healthcare experts are resistant to demands to do so, pointing to a slew of financial and logistical concerns including a shortage of qualified nurses to administer the specialized exams.
The exams include DNA collection key to prosecuting rapists and often provide other medical care such as sexually transmitted infection testing and emergency contraception.
Prior attempts at state legislation to require forensic exams on college campuses have failed, but student advocacy groups aren't giving up. They are lobbying politicians and putting pressure on university administrators to create more on-campus treatment for sexual violence, pointing to research that shows college students are both more likely to be sexually assaulted and less likely to report the assault to police.
The new exam room at UCI, which opened in April, is a potential model for better systemic access. The private space — the only of its kind on any college campus in the state — offers amenities such as a shower and new T-shirts and underwear, as victims' clothing often becomes evidence. Every detail is "trauma informed," Pascal said, down to the soft lighting and calm shade of sage green painted on the walls.
"It's been designed with the idea that if I were experiencing one of the worst things that could happen in my life, and I walked through this space, what do I want to see and how do I want to feel?" Pascal said.
The UCI site is proof that it can be done, but it took years of planning, a $350,000 grant and many conversations with local health experts and law enforcement to make happen, Pascal said. An on-call nurse certified in sexual assault exams will report to the campus space when needed.
While California has among the strongest sexual assault protections in the country and was the first to implement college campus standards such as a law that requires "affirmative consent," many students must travel several miles to forensic exams.
According to a recent analysis by the social justice group GENup, the average distance for a University of California student to a sexual assault exam is nearly 12 miles, and 9.5 miles for California State University students.
Schools in rural parts of the state face longer distances. At UC Merced, students are referred to a treatment center in Fresno, a drive that takes nearly an hour. In El Dorado County, Lake Tahoe Community College students are typically referred to a medical center in Reno, 42 miles away from campus.
Officials for both colleges told The Times that they either offer students an option for free rides to care or refer them to police for transportation.
But student groups including GENup and Ignite National are sponsoring a bill making its way through the state Legislature that could make dedicated transportation a requirement of all colleges — a move they hope will push more victims to seek exams and report their assaults.
Even students who face short distances to exams report being reluctant to seek care off campus.
Last year, around 1:30 a.m., a UCLA student got into an Uber alone in the same clothes that she was raped in an hour earlier. During the 20-minute ride from her part of campus to the Rape Treatment Center at UCLA Santa Monica Medical Center, she felt paralyzed with fear alone in a car with a male driver, but a friend had convinced her she should get an exam.
She remembers passing by the Ronald Reagan UCLA Medical Center on campus, ranked among the best in the country, and wondering how it was possible that they couldn't give her a sexual assault forensic exam that night.
A UCLA spokesperson said that the university offers 24/7 transportation to the Santa Monica treatment center, including by way of university-owned vehicles and through a contract with a taxi service.
But the 21-year-old student, who asked not to be named, citing privacy and safety concerns, said she didn't know that. The UCLA hotline she called didn't mention it. Care on campus is the best solution, she said.
"To get there, even with transportation, is a mental hurdle that you have to overcome," the student told The Times in an interview. "If the administration can't acknowledge these issues and try to meet the students halfway, then they don't actually care about the needs of the students."
While the treatment center is only about five miles away from some UCLA dorm rooms, the student almost didn't make the trip. She credits the renowned Rape Treatment Center with saving her life, in part because of the mental health follow-up appointments she was offered.
UCLA spokesperson Bill Kisliuk said in a statement that the university is "fully committed to the well-being of our students, including offering compassionate and complete healthcare and support resources." The Santa Monica center is the most "well equipped" resource for sexual assault care, he said, as the hospital on campus is "a busy regional trauma center."
Legislation by Assemblymember Akilah Weber (D-La Mesa) would require most colleges to provide free transportation to and from a sexual assault forensic exam.
Drivers could include a campus health center employee and would protect student confidentiality "to the extent possible," according to Assembly Bill 1138. Universities would also be required to report annually to the Legislature the transportation services provided.
UCLA students traveled to Sacramento last month to lobby for the bill.
"Sexual violence is everywhere on college campuses. I wish I could move on. I wish I could put that time in my life behind me, but I cannot," Kate Rodgers, a UCLA student and collegiate director of policy for GENup, said outside the Capitol steps as she shared about her own assault. "The current system places the burden of coordinating care on survivors in crisis."
Weber said AB 1138 is crucial to adequately shift the onus of post-assault care to universities and away from struggling students. But details, including how much the plan would cost the state, and how to best maintain student confidentiality, are yet to be determined.
While law enforcement may seem like an obvious solution, some students, including those who are resistant to filing a police report but still want medical care, could be deterred by that option, supporters of the bill said.
The bill faces no official opposition, but universities have posed questions including whether they would be required to pick up any student who calls, even if they aren't located on campus.
According to a bill analysis by the Assembly Committee on Higher Education, the proposal continues "California's efforts to remove barriers to reporting sexual assault," but implementation is "fraught with questions."
Still, the bill is the most tangible option for getting students better access to care, said Weber, an obstetrician and gynecologist.
She echoed concerns about calls to provide exams on campuses. She worries that the goal is unrealistic for already stretched thin healthcare workers and that such a plan would take away from crisis centers that serve the whole community — not just students. Even some hospitals are unable to provide a full-time forensic examiner.
"The important thing is making sure these patients get seen and get cared for by the appropriately trained individuals in a timely manner," Weber said. "These kids are at college to learn and shouldn't have to worry about being assaulted on campus. I don't think putting one of these forensics specialists on campus is the best answer, but we do know that they need access to this."
Lake Tahoe Community College spokeperson Diane Lewis called demands for on-campus care a "truly commendable" suggestion for a "clear problem" but warned of hurdles for colleges like hers with small budgets and no medical center on campus.
"Smaller community colleges (and even the larger ones) will struggle to have trained staff necessary to offer this service," she said in an email.
Former Democratic Assemblymember Cristina Garcia tried to pass a bill in 2020 that would have required colleges to provide exams on site if the nearest test was at least five miles away from urban campuses and at least 10 miles away from rural campuses.
The bill failed, with detractors pointing to potential costs as one issue, but Garcia said the opposition is misguided as colleges grapple with "pervasive" sexual violence. Nearly 26% of undergraduate women reported experiencing "nonconsensual sexual contact by force or inability to consent," according to a report issued by the Assn. of American Universities in 2020.
University budgets — and the state's budget — are a reflection of values, Garcia said.
"At the end of the day, you have the students themselves telling the administration that this is what they need, and they're being consistently ignored and pushed aside," she said. "It makes me question the commitment to these victims."
Malinda Wheeler, a registered nurse and president of the California Sexual Assault Forensic Examiners Assn., said the state needs to do better at getting information about existing services into the hands of students. She estimates that she performs less than 20 exams a year on college students even though hundreds of thousands are enrolled in schools in the region of Southern California she serves.
Many students don't realize that you can seek a sexual assault exam without initiating an investigation with police, she said.
Training for examiners is crucial to preventing patients from being retraumatized by what can be an invasive exam, Wheeler said. No corners should be cut when it comes to who is allowed to administer the exams, she said.
"I think the bigger issue for colleges is not about having an examiner on campus, it's about why don't people report? I think there should be more awareness," Wheeler said.
Students like Julianne Lempert, a UCLA student and policy chair for Ignite National, have been pushing the issue for months and have no plans of stopping.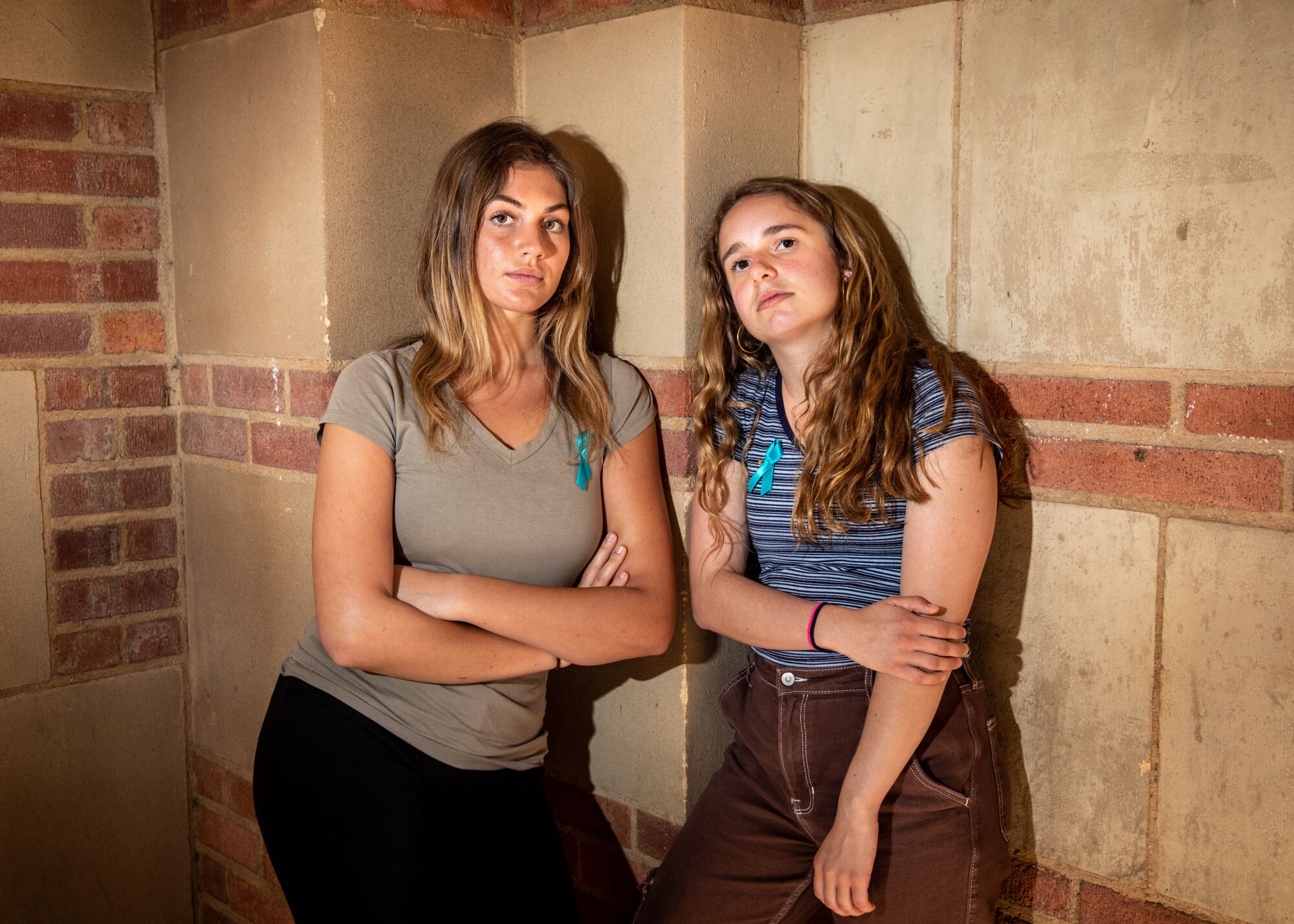 They have done extensive research, logging exact distances from campuses and factoring in traffic or whether public transit is an option. They have called rape treatment centers affiliated with colleges across the state and peppered them with questions: How many nurses are on call? Are the police involved? Do students get first priority?
"She had absolutely no idea what I was talking about," one student wrote in a description of a call seeking information on exams. "Very nice and trauma informed," one student wrote of another.
"You're just surviving one of the most traumatic things that can happen to a person and you're being met with logistical and administrative issues. It discourages survivors from starting their healing journey," Lempert said.
Lempert sees AB 1158 as a "great first step" but believes that the state should find a way to make on-campus care a priority.
"The schools we're talking about are powerhouses. They have the brain power and the money. How dare they say it's not possible," she said. "It's a choice."
Source link